A young Nigerian lady is lucky to be alive after she was allegedly bathed with acid by her best friend over a man.
The victim, who shared a video of her partly burnt face, alleged that her best friend attacked and scalded her face with acid because her boyfriend was asking her out.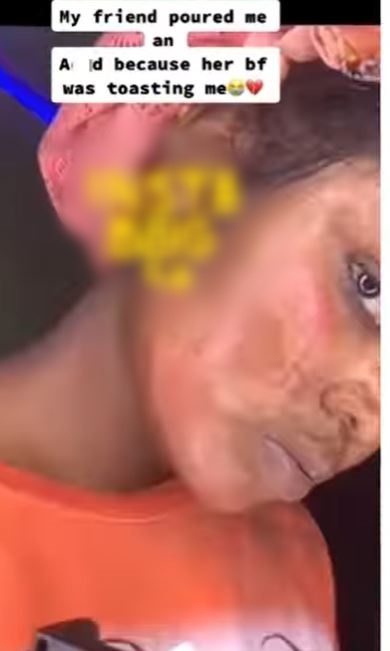 According to her, when her mother confronted the jealous friend to find out what substance she drenched her daughter with, she revealed that it was a mixture of bleach, bleaching oil, and petrol.
"My mum went to her place to as what she poured on my face, she said it is hypo, caro white oil with fuel mixed together," she said.
Sharing the video, she captioned it, "My friend poured me an acid because her boyfriend was toasting me".
Watch video below,
Meanwhile, a young Nigerian lady has become an Internet sensation after she set up her phone camera, hit the record button and began crying while it was filming because her heart had been shattered.
The heartbroken woman could be seen in a video shedding tears while calling out the bestie whom she identified as Mercy.
She berated Mercy for snatching her boyfriend despite the fact that she took her as her closest friend.
She then made a solemn vow that she will never forgive her former bestfriend.
She said in the video – "Mercy, my boyfriend left me because of you. I called you my best friend, and you went behind me to collect my boyfriend."